Launching tonight, Halo, a large, interactive sonic and light artwork will transform Lot Fourteen into a night-time playground of colour and sound, thanks to the artists, inventors and musicians behind illumaphonium.
Experienced and enjoyed by over five million people from Athens to Singapore, Sydney to New Orleans via London so far, Halo offers a creative experience which asks visitors to touch, play and immerse themselves into a world of neon, colour and sound.
As part of Illuminate Adelaide's City Lights (North) free interactive trail on North Terrace, Halo was created in a small studio nestled in a secluded forest in south west England, brought to life by Michael and Gemma Davis.
The creative duo are not only pioneers in the field of interactive sonic light-art, they are passionate about creating truly believable and authentic experiences for their audiences.
We sat down with the team to understand the inspiration behind the piece.
Michael and Gemma met playing African drums 'many moons ago'. The married couple's key driver is to offer people the chance to be creative, get stuck-in and maybe try and change some self- limiting beliefs, they may hold about not being a 'creative type'.
In fact, Michael was told 'very firmly' at his south London school that he wasn't creative, which sent him on a trajectory into building a career focussed on helping others rediscover their creativity – often buried during childhood.
Gemma talks of Michael's incredible skill and knowledge in creating music and sounds from almost any material. His innate and honed musical talent over decades has led the team to traverse the world bringing people together through their unique installations.
Creating a creatively safe space for people to explore latent creativity is aided by some nifty coding and machine learning by Michael's son, Obi.
In 2015, illumaphonium was born, based upon a highly ambitious concept to create a 3.5 metre instrument with 108 tuned aluminium bars.
With a dance music vibe – and a pentatonic scale – which ensures participants create only beautiful Music, the installation took off. They toured across sold-out music festivals around the UK refining the instrument to generate loud, joyful and totally immersive musical experiences.
Their second installation, Halo, Gemma describes how "it has been developed specifically for longer installs in city centres". Using solely digital sounds it is able to be adapted to suit its environment in a way acoustic installations cannot.
"Halo, we think less of as an object and more of as a place. It is an immersive walk through Environment," Michael describes.
At Lot Fourteen there are 20 towers, 3.2 metres tall, with a series of illuminated rings running vertically up each tower.
Each ring corresponds to a note in a scale and can sense the presence of your hand – using capacitance sensing – as a result the rings will glow and respond with a musical note.
The sounds aren't rhythmic, but ethereal and spacious sounding, creating a soothing, meditative and tranquil environment.
Michael says, "By carefully crafting sound, it's possible to make a naturally noisy environment such as a city centre seem more silent and open than it actually is."
This is especially relevant when it comes to North Terrace, which the team is learning as they've spent the week setting the installation by hand, working late into the night.
As a British creative team, the pandemic hit illumaphoium hard and the work they do is now more important than ever.
"If people are able to remember that they are innately creative this offers an expressive outlet,
which is especially beneficial now in the wake of Covid."
"Creative subjects are massively overlooked. Schools have steadily removed creativity from the curriculum. However, there is a social importance to the arts. Creative experiences connect us with one another and generate a climate of sharing and equality."
And next for the team? They have two new pieces in the works. One, a 'no-touch' Covid-friendly piece, "Continuum" made of a geometric maze of 120 resonating mirrors of polished stainless steel.
The other, a large-scale modern take on a harp which has been in design-phase for five years and is a ground-breaking piece they're looking forward to touring with next.
We can't wait to try out Halo tonight!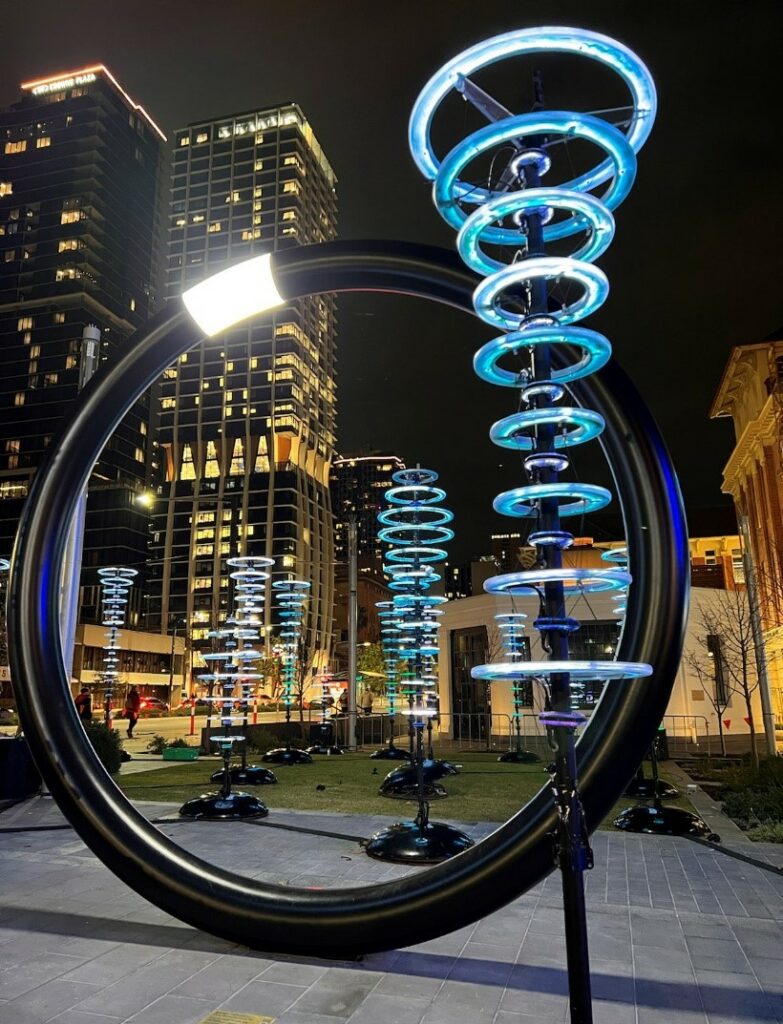 Visit Halo
Location: Lot Fourteen (corner of Frome Road and North Terrace)
Date: Friday 15 – Sunday 31 July
Time: 6pm – 11pm
Refreshments: Community Café and Bar for hot chocolates, coffees and drinks