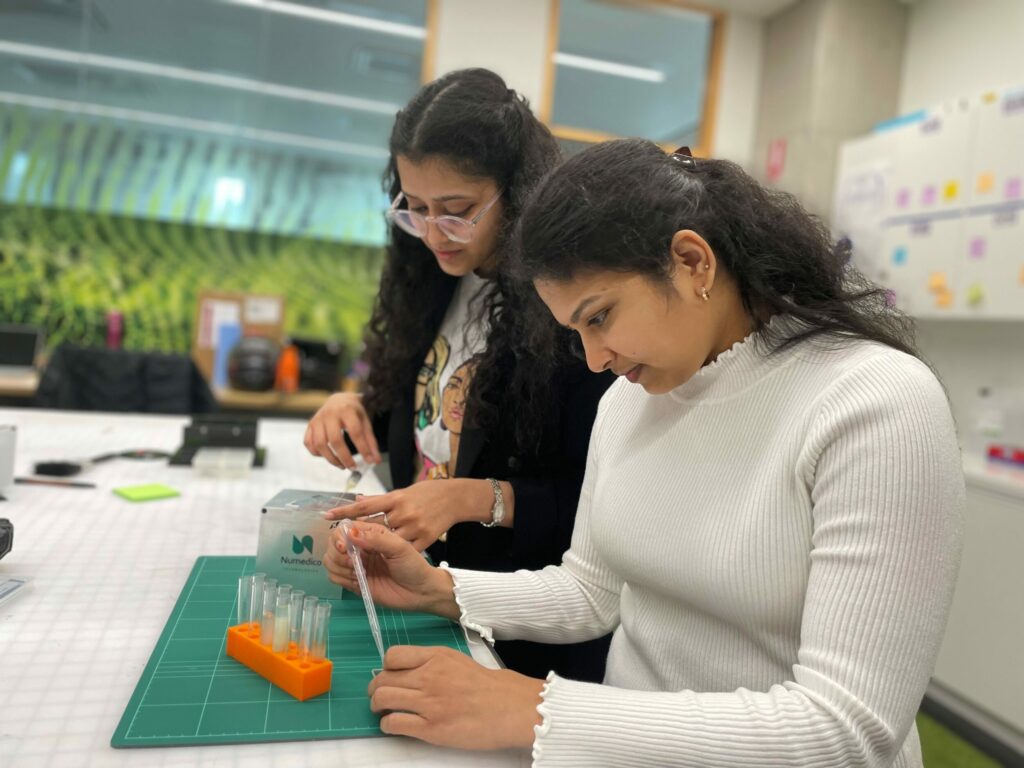 Space medtech start-up ResearchSat hit a major milestone in its short history, with its first sub-orbital nanosatellite space launch this month.
As the only Australian company focussed on satellite microbiological and chemical microgravity space research, its aim is to bring back cures from the cosmos, by using microgravity to accelerate research in the field of life sciences.
The mission
ADI- Alpha CubeSat, designed and built by ResearchSat was successfully launched on 23 November 2022, 9:23 AM Kiruna time from Esrange Space Centre, Sweden.
The CubeSat, measuring 10x10x10cm and weighing just under 1kg was developed in the ICC UniSA workshop and travelled aboard a rocket 260 km into space carrying pharmaceutical and biological experiments.
The satellite stayed in microgravity for six minutes before returning to Earth.
The payload is now in Adelaide and once data is received, ResearchSat's engineers and microbiologists are studying microgravity's effect on the experiments for breakthrough results. Once assessed, the results will be available for its clients.
Adelaide-based pharmaceutical company Numedico Sciences Pty Ltd (a subsidiary of medical devices manufacturer Numedico Technologies) is funding the inaugural sub-orbital space mission and is collaborating with ResearchSat to explore alternative drug delivery methods via research through space satellite technology.
The science
ResearchSat chief technology officer and co-founder Jibin Dhanaraj says, "the experiments we design will be able to generate new knowledge, and the more time we have in space, the greater the chances to develop new therapeutics."
The company is developing small, affordable nanosatellite payloads capable of safely performing biochemical, microbiology, and chemical experiments in space.
Microbes like Bacteria fungi and viruses can be shot into orbit onboard these space labs with the aim of indexing and tracking the mutations due to the microgravity & space environment, and eventually, generating new knowledge which helps in developing advanced therapeutics.
And microgravity has other implications for bacteria. For instance, a particular species of bacteria called Bacillus safensis, proved to grow 60 percent better in the microgravity environment as compared to that on Earth.
Space enables single-cell investigations and disease modelling environments by producing an efficient micro-environment for cells that is a replica of cell habitats (like liver, heart, and lung tissues). As stem cells and tissue cells age and proliferate rapidly in space, we believe it will accelerate medical science research, leading to the development of new therapeutics at a faster rate and affordable cost.
A primary focus of ResearchSat's space research will be to improve the effectiveness of drug and therapeutics discovery & delivery systems by conducting continuous low-Earth orbit experiments on behalf of pharmaceutical clients.
In space, research in microgravity conditions could lead to the detection of new biomarkers and the manufacturing of advanced products that otherwise could not have been produced on Earth.
Where to next?
Founded in 2018, ResearchSat now has 13 employees and is seeking potential venture capital funding of $5 million in a seed fund for future missions.
The sub-orbital launch is not long enough to generate meaningful data but is an important testbed for a more ambitious low-Earth orbit mission that ResearchSat wants to undertake in the second half of 2023 – potentially aboard the International Space Station.
Here the payload will go around a height of 400km and the experiments will experience a microgravity duration of up to two to three weeks to get meaningful data.
This is where the capital raise comes into play, with executives hoping to use funds for its upcoming missions.
"That will allow us to get more high-quality data and gives us more credibility to pitch to pharmaceutical clients," says ResearchSat co-founder and chief executive officer Raviteja Duggenini.
"We are planning three missions next year and that does not only include sub-orbital missions through which we can test our IP and new experiments.
"The research contracts we get from our clients will be enough to ultimately fund our own missions.
"We want to place ourselves as research contractors to pharmaceutical companies where our unique proposition is our microgravity research.
"This accelerated research can help pharmaceutical companies get to market faster than their competitors."
The location of ResearchSat's business development team at Lot Fourteen is no mistake, with the innovation district at the epicentre of South Australia's push towards space sector expansion.
Home to the Australian Space Agency, the Bureau of Meteorology's newly launched national Space Weather Forecasting Centre and scale-ups Inovor Technologies and Myriota the district is a breeding ground for new ideas and collaboration in space research and exploration, including companies finding solutions to problems back on Earth.