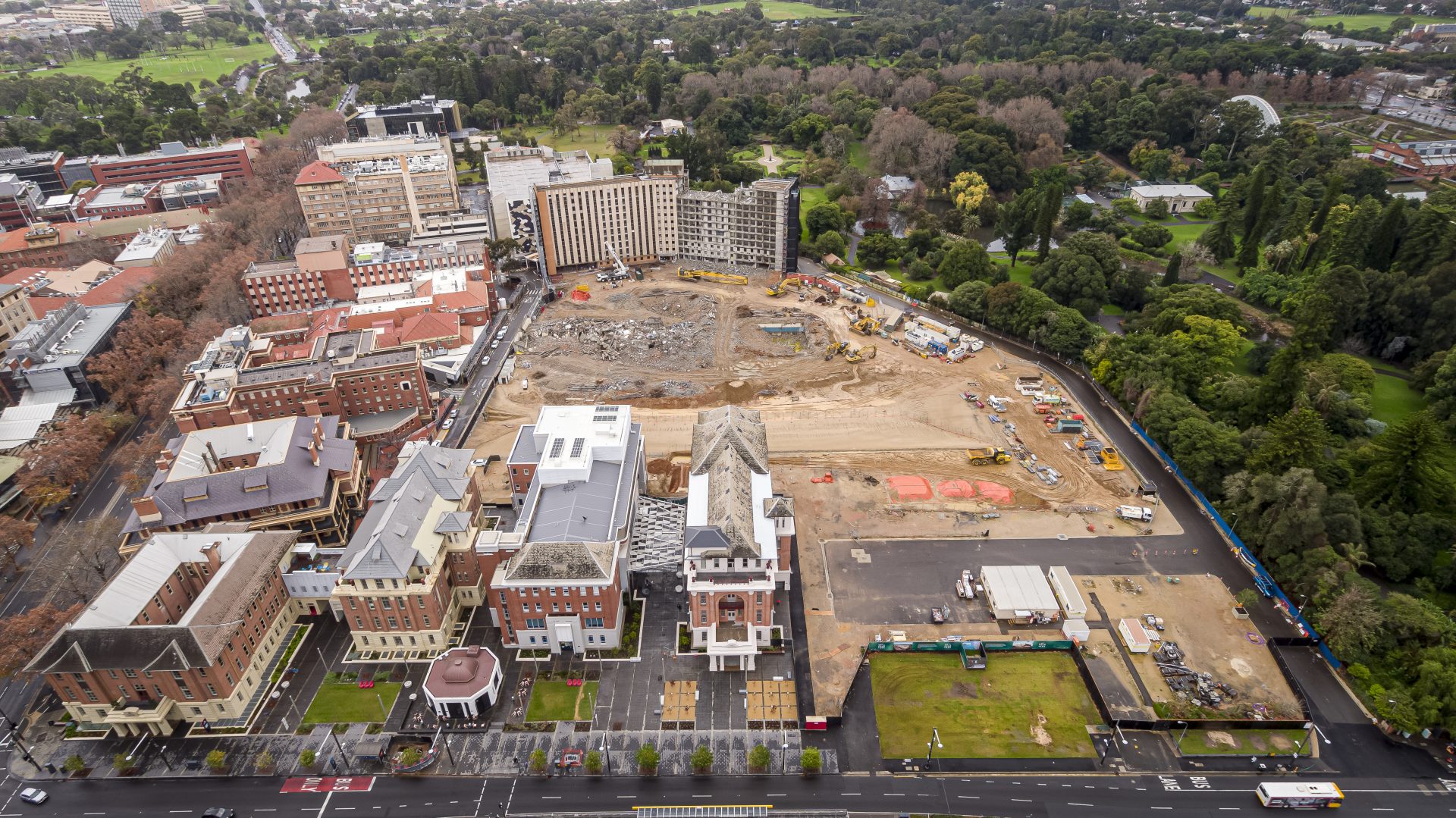 As tenants look closely through their windows, and capture footage on their phones, at the demolition of the former hospital Theatre, Outpatient and Emergency Blocks, and the North and Residential Wings, many started to notice something peculiar happening.
What started out appearing to be extremely large piles of rubble, boulders and debris was now starting to resemble perfectly sorted piles of materials.
Civil, environmental, infrastructure and building services contractor McMahon Services and their highly-skilled construction workers, and expert machines were painstakingly sorting materials for reuse and recycling.
But let's take a step back.
The built environment is currently the world's single largest contributor to greenhouse gas emissions, it consumes around a third of our water, and generates 40 per cent of our waste.
Building materials account for about half of all materials used and about half the solid waste generated worldwide. They have an environmental impact at every step of the building process—extraction of raw materials, processing, manufacturing, transportation, construction and disposal at the end of a building's useful life.
From the beginning, Lot Fourteen has taken a world-leading urban redevelopment stance by signing up to Australia's largest voluntary and truly holistic sustainability rating system for buildings, fit-outs and communities.
The innovation precinct is a Green Building Council of Australia 6Star Green Star Community based on its liveability, governance, economic prosperity and environmental impact.
So how is Lot Fourteen really performing when it comes to environmental sustainability?
Well actually, quite good.
First up, 100 per cent of concrete, bricks and masonry from 94,000 tonnes of demolition have been recycled.
70 per cent of all construction and demolition material will be recycled. The remainder 30 per cent of these materials will go to landfill.
100 per cent of timber gets recycled into fuel which goes to Adelaide Brighton Cement – this decreases their gas usage about 30 per cent.
Lot Fourteen marks a great leap in sustainable development and construction in Australia. For example, planning for a site that isn't dependent on fossil fuels is a key part of the strategy to ensure progressive energy usage initiatives as part of the Masterplan delivery. Current works also include the build of infrastructure, working with SA Water, to allow for recycled water to be distributed throughout the precinct.
In addition to the 6Star Green Star Rating, Lot Fourteen is the first registered WELL Communities Pilot Project in Australia.
The innovation precinct is being developed to achieve the International WELL Building Institute standards by offering tenants and their employees an environment that promotes wellbeing with thoughtfully designed workspaces, as well as opportunities for planned and incidental exercise and the facilitation of making social connections.
This includes use of natural light where possible, end-of-trip facilities to promote active commuting, well designed public realm areas for relaxing and socialising, on-site fitness and wellness classes and easy access to the neighbouring parklands and the Adelaide Botanic Garden for exercising and relaxation.
This adaptive reuse of former hospital buildings is proactively saving materials and preserving the site's unique heritage.
The benefits of such an integrated and sustainable precinct is part of its appeal for businesses wanting to attract and retain talented staff.
In a current and post-COVID world where organisations are struggling to get employees back into offices this is a unique selling point for the growing CBD-based innovation precinct.