Sustainability and wellness is embedded into Lot Fourteen's culture and urban environment via the district's WELL Communities Project Standard. So, we're excited to announce the launch of our new car share program for businesses and community members.
RAA launched its new Flexicar Car Sharing facility at Lot Fourteen through a Stone & Chalk partnership event hosted by Premier Stephen Marshall.
The Toyota Corolla Hybrid is available at a flat rate starting from $10.80, which includes unlimited kilometres with hourly bookings, petrol, insurance and 24/7 roadside assistance. All residents need to do is download the Flexicar app, which has an annual membership fee of up to $49.
It means that Lot Fourteen businesses and individuals can capitalise on sustainable transport options, reserving the car by the hour, or day, using their smartphone to book and unlock the vehicle.
For RAA members the Flexicar app annual fee is waived and members also save 10 per cent on hourly and daily rates.
Being part of RAA Flexicar means tenants can gain access to not only the Lot Fourteen Flexicar, but also a range of vehicle types across Adelaide, from small cars to SUVs, people movers to utes. Users can use Flexicar for just an hour, or up to five days.
Car sharing
Car sharing has continuously seen double-digit growth over the last few years, especially in bigger cities, where more people, especially Gen Ys, are passing on the costs of car ownership.
This sustainable transport option has positive knock-on effects included reduced traffic congestion and environmental benefits.
The movement prompted a new piece of research by University of South Australia researcher Akshay Vij and co-sponsored by RAA. It looked at the role of car sharing services, and posed the question: could this be the future of transport in Australia?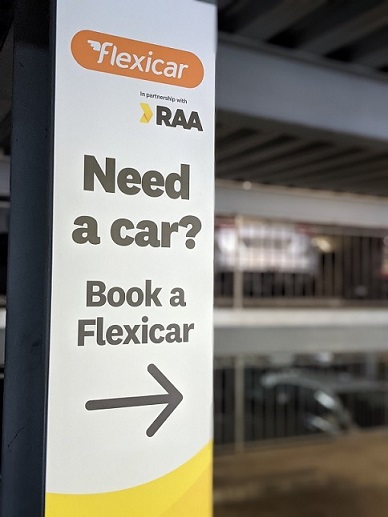 The online survey was taken by 4,000 Australians and revealed their willingness to give up their cars for alternative transport.
In fact, 40 per cent of respondents are open to using car sharing services.
Mega trends, technology-led innovation and regulatory conditions are changing the nature of mobility with disruptive technologies inspiring the development of new business models. Or old, if you ask Europeans, who have been using car share schemes in earnest for over two decades.
On demand service providers, like car share and ride share (Ubers etc) are shifting with younger generations also.
As an innovation district, Lot Fourteen looks forward to seeing how the take-up of the new service progresses amongst the community.
To get started, download the Flexicar App today by searching 'flexicar' in Google Play or the Apple App Store.